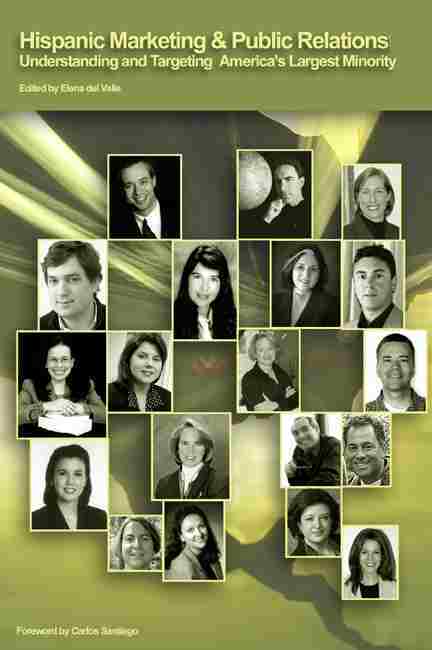 FOR IMMEDIATE RELEASE 
Contact:  HispanicMPR.com 
                editor@ hispanicmpr.com
Editors: JPG photo available
Boca Raton, Florida – Hispanicmpr.com, a forum for the exchange of information and ideas on Hispanic marketing and public relations, launched a podcast audio show by the same name. Hispanic Marketing & Public Relations, the first podcast about reaching Latinos with marketing and public relations tools, is hosted by Elena del Valle and listed in many podcast directories including Apple's iTunes. The podcast has featured songs from debut albums and popular Latino performers including Andrea Echeverri, Mexico Institute of Sound, The Pinker Tones, Diego Diego, Sara Valenzuela, Spigga, and Hip Hop Hoodios. Podcast guests have included Alex Carvallo, U.S. Hispanic media manager Intel Americas; Jaime Suchlicki, Ph.D., editor, Cuban Affairs Journal at the University of Miami; Juan Ochoa, director, Program Development, MFM Trade Meetings; Matias Perel, president, Latinthre3.com; Jeffrey Duque, commercial director U.S., Cuatro-Media, Inc. and Bill Colton, president, Global Telesourcing. Podcast discussion topics have included: Hispanic online market, Fourth Annual Innovations in Hispanic Markets conference, newly launched Fox Sports en Español magazine and Cuban Affairs Journal, Intel's efforts to reach Latinos and Hispanic call centers.
Started as a weblog for the Hispanic Marketing & Public Relations book (Poyeen Publishing, $49.95), the podcast's host website provides a place for readers and authors of the book, subscribers and visitors to connect, discover the latest Hispanic market news and updates and listen to expert interviews and presentations in an audio format.  Visitors may listen to the podcasts on the website audio player which appear under the heading "Podcast" or download them for convenient listening on their MP3 or iPod players.
To listen to a podcast, go to the Podcast Section (box with blue background on the right of the page) on www.HispanicMPR.com . Select the title by placing your cursor on it then click on the play button. To download the podcasts to your MP3 player or iTunes folder, right click on the RSS box above the Podcast box and select "copy shortcut." Insert the shortcut into the download podcast URL box in the "advanced" file on your iTunes folder.
The Hispanic Marketing & Public Relations book provides 435 pages of information, case studies, graphics, market data and opinions based on the experiences of nineteen U.S. Hispanic market experts. Seventeen practitioners and two university academics, contributed fifteen chapters to the book, which benefits the Hispanic Marketing & Communication Association (HMCA), is a volunteer driven nonprofit professional association dedicated to Hispanic marketing excellence.