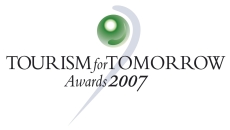 FOR IMMEDIATE RELEASE  
Contact:  Elena del Valle
              LNA World Communications
              elena@lnaworld.com
              (305) 270-6309
Luxury Travel Review becomes Media Sponsor of Tourism for Tomorrow Awards
Boca Raton, FL – The Simon & Baker Travel Review, http://www.simonandbaker.com/, and Luxury Travel Review, http://www.luxurytravelreview.com/ , have become Media Sponsor of the 2007 Tourism for Tomorrow Awards. The Awards, organized by the World Travel & Tourism Council for the third year, promote and reward best practices in Travel & Tourism around the world.Other Media Sponsors include BBC World, National Geographic Adventure, E-Turbo, Travelmole and Newsweek. The Awards are sponsored by several WTTC Members and other organizations, including British Airways, Reed Travel Exhibitions, TAP, Espírito Santo Tourism Group and Opodo, as well as by Fairmont Hotels & Resorts and Adventure Travel Expo.
"We are delighted to have Simon & Baker Travel Review join our list of prestigious media sponsors for the Tourism for Tomorrow Awards this year, extending yet further our coverage and reach to raise awareness about the Awards," said Jean-Claude Baumgarten, president and CEO, World Travel & Tourism Council. "We look forward to a fruitful partnership with Simon & Baker."
There are four award categories open to tourism destinations, businesses and organizations: Destination Award for destinations of any size which show a commitment to responsible tourism development; Conservation Award for any tourism organization committed to the protection of natural and cultural heritage; Investor in People Award for any tourism organization which shows a commitment to human resource development and local community involvement; and Global Tourism Business Award for a tourism business of at least 200 employees operating in more than one destination which demonstrates responsible tourism practices.
The Simon & Baker Travel Review/Luxury Travel Review.com publishes first hand impressions, opinions and insights on top quality destinations, accommodations, restaurants, travel products and attractions worldwide including popular ecotourism destinations.  The Review publishes articles on Botswana, Nicaragua, Peruvian Amazon, South Africa, Tulum, and Zambia.  Other destinations include Paris, France; Trinidad and Tobago, The Bahamas, St. Barths, and St. Vincent and the Grenadines.
There are also first hand reviews of top gourmet restaurants such as The French Laundry in California, Picasso in Las Vegas, Alain Ducasse in New York, and Le Cinq, Ledoyen, and Le Grand Vefour in Paris. Travel related products include the safari friendly Transporter 90 for men, SassyBax intimate apparel for women, Vonage and Iridium satellite service for pleasure and business travel.
Travelers from near and far read articles on the website. Although the United States and Europe are the most common countries of origin for Review readers, visitors from many other areas such as Argentina, Australia, Chile, New Zealand, Singapore, South Africa and Thailand to name a few, visit frequently.  The Review offers a sign-up option for readers to receive complimentary monthly email updates on new and upcoming articles by submitting their email on the website at www.simonandbaker.com/wp 
– 30 –