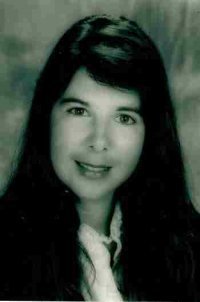 Elena del Valle, principal, LNA World Communications
Elena del Valle, editor and contributing author of Hispanic Marketing & Public Relations, will be the keynote speaker of "Hispanic Market: What's in it for You?" a lunch presentation taking place Wednesday, March 1, 2006 in Naples, Florida. The event, sponsored by Fifth Third Bank, Naples Sun Times, The Greater Naples Chamber of Commerce and Edison College was organized by Eyes Wide Open and will take place at the Edison College Conference Center from 12 to 2 p.m. 
Elena is principal of LNA World Communications, a marketing and communications company, where she is responsible for media training, strategic planning and client relations. She is the director and editor of Hispanic Marketing & Public Relations (Poyeen Publishing, $49.95). A 20 year marketing and public relations veteran, she has worked extensively in health care and with U.S. and international Hispanic markets. Prior to founding her own marketing and public relations firm nine years ago, she was a key member of the health care team and headed the Hispanic practice at the largest independent public relations firm in Florida. Before that, she attended law school nights while she was in charge of domestic and international Hispanic marketing and public relations for a major private South Florida health care company.  Details and regsitration information are available at (239) 775-6080 ext. 305.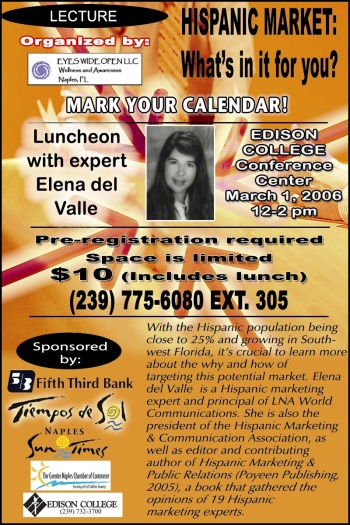 To read a related Spanish language article entitled "Experta en mercado hispano se presentará en Collier" visit Tiempos del Sol